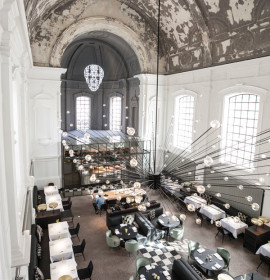 Site 't Groen Kwartier

No specify serve day
CONTACT OWNER
The Jane Restaurant Antwerp
"The Jane" is the name of a new restaurant by master chefs Sergio Herman and Nick Bril. Their culinary creations are long since known to be extraordinary; now they have the matching location to boot: For their new gourmet sanctuary they have given a chapel in Antwerp a thorough makeover.
On the outside, the now profane church's simple façade has been as good as left in the original, but once inside you will look in vain for any signs of virtuous abstinence. Designer furniture and elaborate lighting installations have taken the place of the altar and wooden pews that previously filled the 20-meter-high hall. In keeping with the elegant interiors, the kitchen and washrooms were outfitted with high-quality mixers by Axor, the design brand of Hansgrohe SE.
Master chefs Sergio Herman and Nick Bril treat their guests to such wonderful culinary fare as "Shoulder of lamb with Eede asparagus" and "Holstein beef with egg plants, miso and sesame". With "The Jane" Herman, who for 25 years cooked in the Dutch three-star restaurant "Oud Sluis", wanted to offer his guests something more than the usual classic and unobtrusive ambience of high-end restaurants. Sensuous, obscure and with a touch of profligacy – this is the atmosphere in which he wants his guests to indulge themselves.